Innovative Cooling Solutions for Baking Applications
Why Use a Chiller for Baking?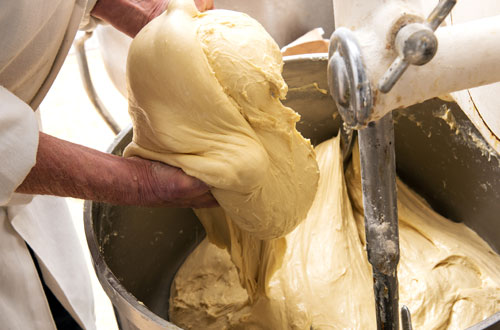 Reduce waste and maintain consistency with automation.
Producing dough depends upon consistent temperatures and water volume. When you depend upon a manual temperature reading or manually filling measuring devices, accuracy is compromised, reducing the quality of the product.
One Unit and Small Footprint

Space in the kitchen is at a premium and multiple pieces of equipment produce heat, making the conditions unfavorable for employees and product.
Efficiently moving employees from station to station helps provide consistent results and faster output of your product.
Recipe-Specific Water Dispenser

Get exact levels of temperature controlled water for preprogrammed recipes. The Kool Water Dispenser saves time, reduces waste, and eliminates teh need to manually fill containers and constantly monitor water temperatures. Efficient and precise, this is a game-changer for making dough and similar processes.
Download the Kool Water Dispenser Spec Sheet (PDF)
Why Glen Dimplex Thermal Solutions?
GDTS cares about your product quality.
Increase productivity, quality, and consistency with our versatile and easy-to-use Kool Water Dispenser. Get exact levels of temperature-controlled water for up to four preprogrammed recipes and eliminate manually filling containers and monitoring water temperatures.
High Quality Production

The Kool Water Dispenser dispenses recipe-specific quantities of water at a consistent pre-set temperature in under six minutes. It is designed to handle a wide range of incoming cold and hot water temperatures from 40 to 140°F, resulting in the colder water necessary for baking and designed for high ambient temperatures.
Easy Operation and Installation

The GDTS chiller is plug and play with existing hot and cold water supply. Once set-up, press one button to dispense water at recipe-specific volume and temperature.
Lowest Total Cost of Ownership

Designed and built for high reliability and uptime, the Kool Water dispenser eliminates the  guesswork of temperature and volume in addition to reducing production prep time and product waste due to incorrect water temperature or volume.
Find A Chiller Specifically for Your Application
GDTS provides custom solutions tailored to your baking application needs. Our chillers are also backed by 18-month parts and labor warranties and maintenance plans, as well as 24/7 technical service and support and next day parts.