Innovative Cooling Solutions for Brewery, Winery, and Distillery Applications
Why Use a Chiller for Brewery, Winery, and Distillery?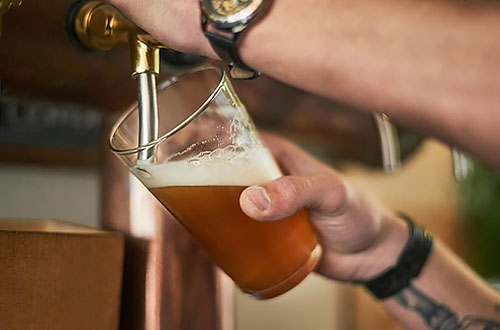 Critical temperature control impacts flavor.
Whether you are producing beer, wine, or spirits, one common requirement is maintaining the right temperature for fermentation, carbonation, storage, and shelving.
Fermentation
While the specifics vary, the overall goal in fermentation is to maintain a consistent temperature range to prevent yeasts from dying due to excessive heat or going dormant at colder temperatures.
Carbonation
Precise temperature control is critical for this production so that carbonation can be achieved without adding more carbon dioxide.
Storage and Serving
Maintaining proper storage temperatures as well as the desired serving range prevents loss of product and flavor.
Download the Specialty Alcoholic Beverage Spec Sheet (PDF)
Why Glen Dimplex Thermal Solutions?
GDTS cares about your product quality.
Achieving low temperatures quickly and consistently ensures the perfect pour every time. Whether you need cooling for brite tanks, jacket fermentation tanks, two-stage cooling, wort/cooler, cold neck cooling, storage rooms, or crash cooling, Glen Dimplex Thermal Solutions (GDTS) offers:
Outstanding dependability and durability
Cooling fluids capabilities as low as -20°F with hot gas bypass freeze protection.
Modular designs for growth
Multiple compressors and redundant designs for up to 99.96% uptime
Heated loops
Remote monitoring capabilities
Find A Chiller Specifically for Your Application
GDTS provides custom solutions for your application. Our chiller are also backed by 18-month warranties and maintenance plans as well as 24/7 technical service and support and next day parts.
Why Reliability Matters
Reliability ensures dependable, consistent results. In the brewery, winery, and distillery industry, delivering reliable temperature at just the right time creates repeatable recipes and happy customers.
Reliability maintains consistent temperature. 
GDTS works with Apex Brewing Supply to integrate glycol jacket chillers on brewing cylinders and cones to ensure consistent temperature for brewery equipment.