Innovative Cooling Solutions for Dairy Applications
Why Use a Chiller for Cooling Raw Milk?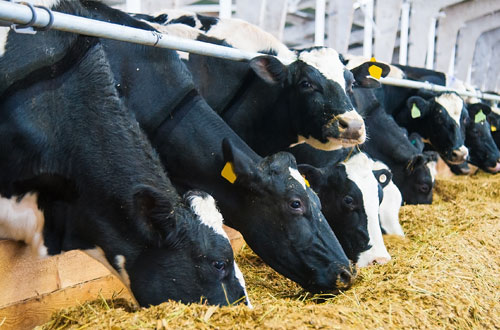 Your milking process needs reliable cooling.
For dairy producers, a critical time during the milking process is cooling the milk from 100°F to 40°F within 30 minutes to prevent development of harmful bacteria. A reliable cooling solution needs to be able to meet this demand while withstanding extreme and harsh ambient conditions, including dirt, dust, and corrosive air conditions. The GDTS dairy solution offers dairy producers a system that can meet these requirements while providing consistent temperature control and efficient, dependable operation for cooling raw milk.
The Best of Both: Reliability and Modularity for Raw Milk Cooling

One of the key elements of this dairy solution is the ability to expand the milk cooling capacity with the growing herd. GDTS has modular and redundant chiller designs that can meet the needs for expanding cooling capacities as well as maintaining critical uptime. Quality built with robust components, our chillers have years of proven experience performing well in harsh and dirty dairy conditions.
Additional elements for raw milk cooling solutions

In addition to the chillers, GDTS has heat exchangers, remote condensers, and economizer packages to provide dairy producers one complete package to help with energy savings, efficient water usage, and cost reduction of equipment duplication.
Custom Built Chillers Maximize Your Efficiency
The GDTS dairy cooling solution offers customizable many options to meet your raw milk cooling needs.
Download Dairy Cooling Solution Spec Sheet (PDF)
Why Glen Dimplex Thermal Solutions?
GDTS has a proven 99.9% uptime.
Most of our equipment is custom built for your application. Whether it is a tight temperature tolerance, stainless steel piping, stainless steel cabinet, and/or washdown rated equipment, we have the solution to meet your thermal needs. Our high efficiency, closed-loop, self-contained packages provide clean and hazard-free cooling that will ensure reliability and minimize downtime.
GDTS dairy chillers are:
Designed with durable components to withstand high and low ambient temperatures and harsh conditions
Custom-fit to your specific application needs
Offered in larger-scale modular designs built for growth and redundancy for increased efficiency and less downtime
Capable of washdown in closed-loop, self-contained units with flow-through designs

Constructed with stainless steel exteriors and interiors

Available with heater packages and custom-designed cooling tunnels

Built with a potable water design
Find A Chiller Specifically for Your Application
GDTS provides custom designs backed by 18-month parts and labor warranties and maintenance plans as well as 24/7 technical service and support and next day parts.