Innovative Cooling Solutions for Food and Packaging Applications
Why Use a Chiller for Food and Packaging?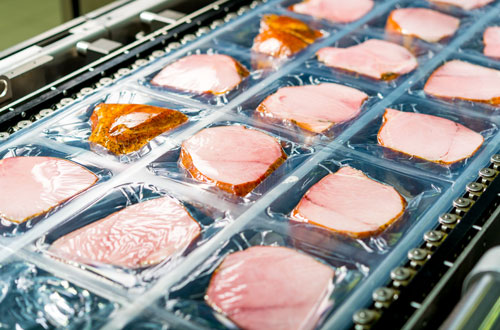 You can't afford process downtime.
Whether you are packaging beverages, vacuum sealing food, or processing meat, you insist on reliable, precise temperature control. A properly sized chiller can maintain or improve the product quality, output, water usage, and ultimately save you money due to unnecessary equipment failure.
Water Savings
Food and beverage packaging applications require reliable, indirect cooling equipment. Finding the best indirect cooling solution to remove the heat from intensifier pumps, high flow pumps, jacketed vessels, meat massagers, waterjet cutting, or brine-injection processes is the cornerstone to reducing downtime, increasing cycle time, and providing high-quality end products. For many applications such as waterjet cutting systems, high pressure processing systems, and vacuum sealing equipment, using city water to pass through the system and drain into a sewer is very costly. In these situations it is difficult to maintain consistent temperatures to properly operate the equipment. Using a recirculating water chiller will provide water savings benefits with a very quick return on investment realized in decreased sewer usage as well as increased productivity.
Download Food & Beverage Brochure (PDF)
Download Waterjet Spec Sheet (PDF)
Why Glen Dimplex Thermal Solutions?
GDTS has your water savings solution.
A properly designed closed-loop cooling system using a water chiller can cut water usage to virtually zero. Whether it is a tight temperature tolerance, stainless steel piping, stainless steel cabinet, and/or washdown rated equipment, we have the solution to meet your thermal needs. Our high efficiency closed-loop, self-contained packages provide clean and hazard-free cooling that will ensure reliability and minimize downtime.
Our food and packaging chillers are:
Designed with durable components to withstand high temperatures and harsh conditions
Custom-fit to your specific application needs
Offered in larger-scale modular designs built for growth and redundancy for increased efficiency and less downtime
Capable of washdown in closed-loop, self-contained units with flow-through designs

Constructed with stainless steel exteriors and interiors

Available with heater packages and custom-designed cooling tunnels

Built with a potable water design
Find A Chiller Specifically for Your Application
GDTS provides standard and custom food and packaging chillers to meet you unique needs. Our chillers are also backed by 18-month parts and labor warranties and maintenance plans, as well as 24/7 technical service and support and next day parts.
Why Temperature Matters
Process water with poorly regulated temperatures can cause equipment failures, downtime, and inconsistent products. In the food processing industry, these inefficiencies can cause spoilage and unnecessary operating costs.
Consistent temperature increases efficiency.
GDTS helped AlaTrade Foods switch to a closed-loop glycol chiller for its DSI waterjet portioning system. The results include a 25-percent increase in uptime, reduced equipment failure, and the elimination of waste water.