Innovative Cooling Solutions for Laser Applications
Why Use a Chiller for Lasers?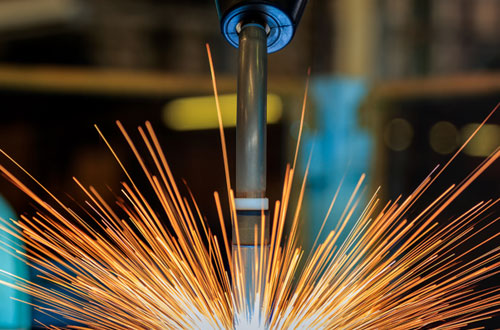 Lasers produce heat. Chillers remove heat.
Industrial lasers require cooling to remove excess heat generated in the resonator power electronics and the optics system. The type of cooling required is determined by laser wattage, resonator efficiency, resonator and optics temperature requirements, and ambient temperature. For laser systems requiring the resonator and optics operating temperature to be at or below ambient, vapor compression (VC) water chillers are typically used. These type of water chillers can handle high heat loads and, when equipped with proper control systems, hold process cooling within <+/-0.5°F.
Increase Your Laser Precision
Laser system performance is affected by increased temperatures. As operating temperatures increase, the laser wavelength also increases, reducing the overall optical conversion efficiency. It is critical for the wavelength of light energy from each emitter to be within a very narrow band. Proper cooling helps maintain the beam alignment in front of the matter.
Achieve Desired Beam Quality
High-powered, industrial lasers require a strong beam focus. Unfortunately, these applications often see wide fluctuations in heat load, which can cause overheating of key laser components. Cooling at a consistent, precise temperature improves beam quality and protects the laser system.
Why Glen Dimplex Thermal Solutions?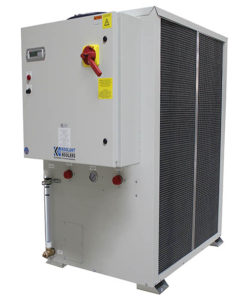 GDTS knows your process has critical needs.
We design laser chillers for cutting, welding, etching, drilling, 3D printing, or cladding provided by any laser system (fiber, CO2, YAG, disc, and diode). Our chillers:
Provide consistent cooling
Eliminate downtime
Lessen noise and heat
Decrease interruptions
Reduce discrepancies
Condense operations
Prevent cartridge failure
GDTS incorporates technology to integrate better with customer's equipment and takes less time to install, set up, and operate. Using machine-to-machine communication linked to a customer's building management system, built-in electronic sensors monitor tank levels, de-ionized water quality, and fluid pressure and flow. The controller automatically adjusts the motorized hot gas bypass to modulate the refrigeration circuit, enabling precise temperature control. One refrigeration circuit can cool multiple fluid circuits, eliminating the need for multiple chillers. Also, dual compressors better match variable heat loads, improve efficiency, and reduce component failure.
Find A Laser Chiller Specifically for Your Application
GDTS provides custom designs backed by 18-month warranty and 24/7 service and support.